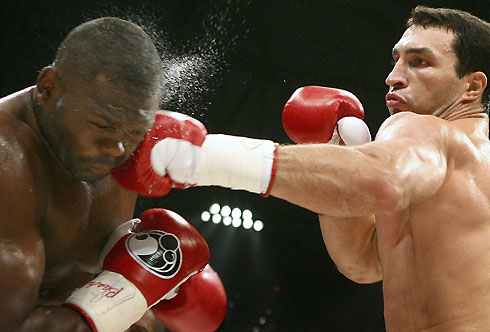 The David Haye vs Wladimir Klitschko fight brought much interest to heavyweight boxing, but what happens now? Vitali Klitschko is fighting Tomasz Admaek in September which is set to be a good fight but other than that, the former flagship division of world boxing is looking so weak, I may have to get into the ring myself!
Recent reports suggest Wladimir Klitschko is laughing off a rematch with Haye but I honestly do not see many viable options for his next bout. Many people hold the view that a rematch would not find an audience, but it seems to be the best of a bad bunch of options. There are only really 6 credible PPV fighters in the heayweight arena at the minute- The Klitschkos, Adamek, Eddie Chambers, Ruslan Chagaev and Haye. 'Dr. Steelhammer'has already defeated Chambers, Chagaev and Haye and his cancelled fight against Dereck Chisora was hardly a headliner. Of all the options available Haye is the only fighter who could sell a decent event. All press is good press and Haye's toe comments, trash talk and swagger have all aroused interest in Europe and even small corners of America.
Haye will have to take less than the 50-50 purse split that was on offer in Hamburg but he is a multi-millionaire already,losing a few pounds has got to be a price worth paying to restore his name. One fight doesn't make a bad fighter. Some good P.R and advertising and the Hayemaker Show could be back on the road. Haye would also need to change trainer, apparently Adam Booth has asked him to retire, a view that will not help the former WBA champion in his future endeavours. Adam Booth is at fault for Haye's loss as much as the man himself. The tactics of the Klitschko team wiped the floor with Haye's strategy. Klitschko's win was unanimous but was a triumph of strategy over brute force. Throw in a few trademark Hayemaker right hands and you've got a whole new ball game.
The Heavyweight division is in crisis. The top two will not fight each other due to an obvious conflict of interest and sibling matchups always disappoint anyway(look at the Williams sisters in tennis). We may have to support David Haye not just for the good of British heavyweight boxing but for the good of world boxing.